New Delhi
When India entered the first Covid-induced lockdown in 2020, thousands of day-to-day workers living day to day in cities, miles from their home villages and towns, were forced to return home in the absence of transportation such as train and bus services. Even in 2021, the second wave and its subsequent impact posed many challenges for daily betting. Touched by their fate and by the fact of undertaking long journeys home, some artists sought inspiration in this exodus. On International Migrants Day (December 18), five creative souls share the stories behind their works that are inspired by the migrants' return journey.
Yaqoob and Amrit's story
When the pandemic struck, Delhi-based visual artist Ranjan Kaul "began to visualize what life might be like on the streets and elsewhere in the new circumstances" of disruption and concern. Along with other works on the pandemic, he painted the legend of Mohammed Yaqoob and Amrit Kumar, inspired by the story of two friends and colleagues that went viral about 18 months ago. His painting shows a Yaqoob getting off the truck driving them home to support Amrit who is severely affected by the virus. "Amrit stays with him until help arrives," says Kaul, sharing: "As a socially conscious artist and a keen observer of human behavior, my art is a reflection of what I see, read and hear. , a view of the ring, so to speak … Some of the works I created during this (pandemic) time are imaginary realities that piqued my curiosity or struck a chord with me. Just when I thought that we were safe, the second wave of the pandemic assaulted my immediate family and friends. The trauma of isolation and loss of loved ones not only caused worry and disruption on a personal level, but affected my art as well. With the extreme uncertainty and nothing being final, I realized, for myself, that the traditional defining lines and shapes could no longer reflect the fragmentation around and within me, like the impact pandemic on mental health – which appeared intuitively was a new way of expression. "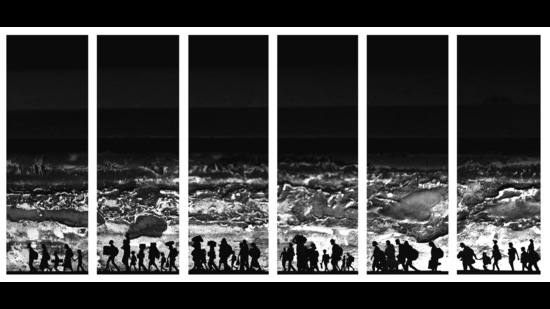 A digital representation
Urban artist Venkatesh Sabbaravapu, in his work Imperceptible Warriors, captures the plight of migrant workers who lost their livelihood in the cities and were forced to return to their villages on foot. His digital print showcases the reverse migration, from urban to rural settlement, forced by foreclosure. Sabbaravapuopines, "The Covid-19 pandemic has had a sudden and substantial impact on us, and we will never forget these situations in everyone's life. Intentional and unintentional migration to urban spaces upset the equilibrium of societies and the unprecedented reverse migration was forced by lockdown, it created images similar to the repeated suffering (of workers) in Indian history.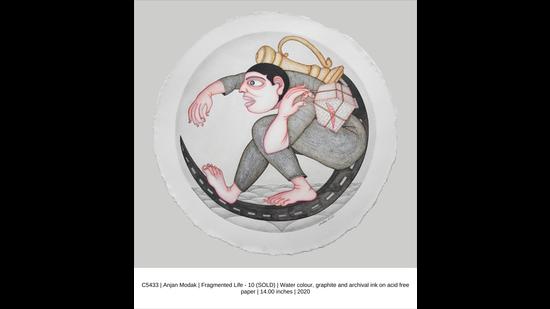 Disturbing visuals, captivating paintings
Kolkata-based artist Anjan Modak, who grew up in Delhi, chose the theme of the working class in his paintings. "When images of migrant workers taking journeys on foot home began to infiltrate media and social media, I was quite disturbed," Modak recalls, adding: "When the lockdown took place, the workers who I spoke to had thought of ki chhuttiyaan mil rahi hai, aaram karenge kuchh din. But, extension after extension of the lockdown began to worsen their crisis. There was a case of migrant workers being run over by a train while sleeping in May of last year. There were pictures of their rotis spread out on the tracks. So I made works in round format, showing their fate. Also at school we get a gola (zero ) on the answer sheet when something is wrong. So this is my way of showing this inke saath galat ho raha hai! "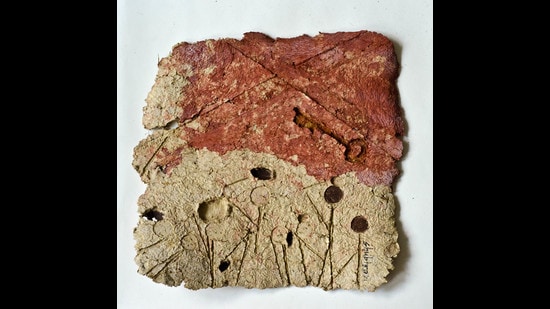 Anguish expressed in art
In his paper pulp work titled Tala-bandi: Nowhere to go, but take the long way home, on foot…, Delhi-based artist Shubhra Chaturvedi, presents the plight of migrants using prints of keys and metal nails. "My Andolanjeevi series, which also includes this work, stems from my angst about what happened in March-April 2020. Many of these workers have to earn in the morning to be able to eat at night. Imagine what these people felt when they had to put their child in a suitcase and walk for hours and hours to their land … As an artist, I had so much anxiety that I have decided to express it through my art. I started to make sculptures with paper pulp and this medium helped me to express the anguish that these two years made us live personally and collectively as humans … it is still a work in progress as I explore and express more.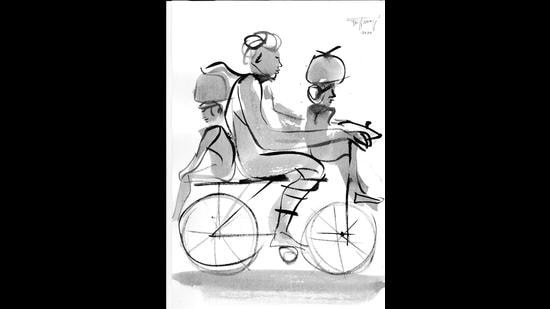 "Everything came spontaneously afloat"
Like everyone else, well-known artist Jatin Das was also stuck at home for over six months due to the Covid lockdowns. That's when he started making what he calls Exodus – an ink-and-paper series about the plight of migrant workers. "I was restless at home. I had two hundred acid-free papers, a few inkwells, and a lot of paintbrushes. So I started to paint. What appeared in newspapers and on television, and what I had observed over the years, all spontaneously spread. My inspiration for my work has always come from the working class. Those who build roads, lay bricks, paint high-rise buildings. Beldars, thhelawallahs, kudawallahs, manhole cleaners, ragpickers, household helpers, construction workers, all those who work nonstop. During the confinement, the migrant workers, who build our houses and our cities, had to return to their villages … Hundreds and thousands of them had to walk barefoot, some on bicycles, and others on buses, without fear of the blazing sun, without food or water. Men and women carried their children on their shoulders, in baskets, in their tired arms, walking quietly, day and night, non-stop, "explains Das.
Author's tweets @siddhijainn
Follow more stories on Facebook and Twitter